Oh.....Poopity poop!!!!
The Mr. Men Wiki would like to have the article with more information. Please help us build it.
It's time for fun in the kitchen with cooking!
Episode Summary
Edit
First, we hear the Narrator. Then, it's time for Good Morning Dillydale! Mr. Grumpy and Mr. Quiet visit Miss Naughty's Restaurant. Mr. Persnickity teaches a cooking class that doesn't go too well. Mr. Scatterbrain goes to a local market and purchases an Instant Meal. Then, we hear the Narrator again.
I'm the One They Call the Big Mess!
Running Gags
Edit
Mr. Men catchphrases
Edit
Favorite Quotes
Edit
Background Information
Edit
Continuity
Edit
Allusions
Edit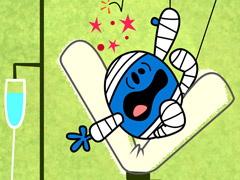 This episode article is a stub. You can help Wiki by expanding it.